T6 has roughly the same amount of caffeine as large cup of coffee, this caffeine supplies you with the energy to carry out the tasks for the day ahead, or an intense workout you have planned!
The beauty of this fat burner is not only that you have that subtle but effective release of energy, you have an ingredient called N-Acetyl L-Tyrosine. N-Acetyl L-Tyrosine can improve mental performance, allowing you to focus solely on the objective at hand!
T6 Black Revolution has appetite suppressing ingredients. These ingredients can improve sustainability when faced with a reduced calorie intake and allow protein and fat dominant meals to keep you fuller for longer!
CAFFEINE ANHYDROUS
Caffeine is one of the most used substances in the world! It is found in tea, coffee and pretty much every energy drink on the market, and also in the T6 for it's amazing benefits! The evidence to support its role in fat loss and mental alertness can not be doubted.
N-ACETYL L-TYROSINE  
NALT is a rapidly absorbing form of L-Tyosine which is fantastic for increasing mental alertness and combat mental fatigue, NALT can also act as an antioxidant, perfect for taking before a heavy cardio or training session.
MICRO E CAFFEINE
This micronised version of caffeine has been proven to give you a longer, more sustainable energy throughout the day alongside with key appetite suppressing components to help maximise your results! Micro E-Caffeine's main component is its unique delivery system throughout the central nervous system.  
POLYALTHIA LONGIFOLIA EXTRACT
Polyalthia longifolia is a plant extract deprived from Indian leaves, the pharmacologic studies on the bark and leaves of this plant show effective antimicrobial activity. It also holds hypoglycemic effects, which help balance blood sugars and maintain a feeling of wellness even when being in a calorie deficit. In short this extract will help you feel absolutely amazing even when in a calorie deficit necessary for a cut.  
NANDIA PLANT EXTRACT
Nandia plant extract is deprived from the nandia plant and is often treated as a anti-asthmatic and fat burning supplement. It has similar biochemical pathways to those of epinephrine and shares a similar Beta-adrenergic receptor agonist pathway to both ephidrine and synethrine.
RASPBERRY KETONE
Raspberry Ketones is recently known for its use as a food supplement to help in the process of weight loss. It is a natural compound of red raspberries, synthesised from coumaroyl-CoA, and helps to reduce increases in body weight.
NARINGIN
A grapefruit extract that increases the bioavailability of nutrients. This prevents the breakdown of nutrients, allowing more to be absorbed into the bloodstream.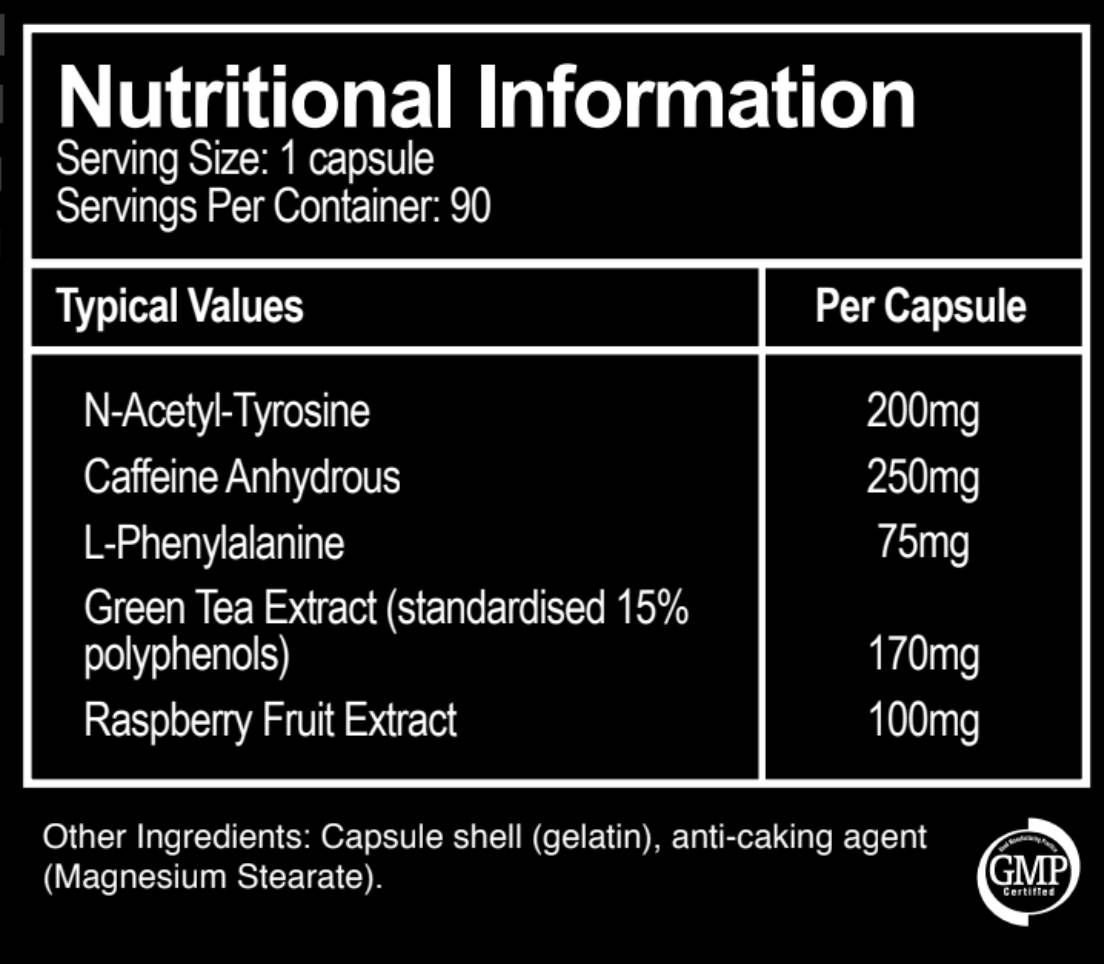 Store in a cool, dry place away from direct sunlight.