MTS Nutrition All Natural Isolate uses ONLY whey protein from Grass Fed cows. That's right, these cows have only consumed 100% grass, no exceptions. Each serving of MTS Nutrition All Natural Isolate is non-GMO and rbGH free Whey Protein Isolate, delivering 25g of 90% pure whey protein isolate (WPI), the highest grade of whey protein ever conceived.
To further up the ante, MTS Nutrition has included only natural flavors and natural sweeteners to deliver a superior protein both in taste and quality. You'll still get the same phenomenal flavoring that MTS Nutrition is known for along with the muscle-building benefits attributed to whey protein supplementation.
These cows are NOT exclusively grass-fed. This negates many of the benefits associated with drinking whey from grass-fed cows.
ENOUGH IS ENOUGH!
MTS Nutrition created a perfect, ALL-NATURAL, grass-fed whey. Natural flavors, natural sweeteners, and 100% (not just the occasional blade of grass) grass-fed, non-GMO, rGHb-free, grass-fed whey.
Now let's talk flavor. Even the fake grass-fed whey tastes awful! MTS Nutrition is known for having the best flavors in the industry, and this product is no exception. MTS Nutrition ISOLATE will have you craving more and more. It is delicious!
Do what's right for your health, and your results. Try MTS Nutrition Grass-Fed, All-Natural Whey ISOLATE today!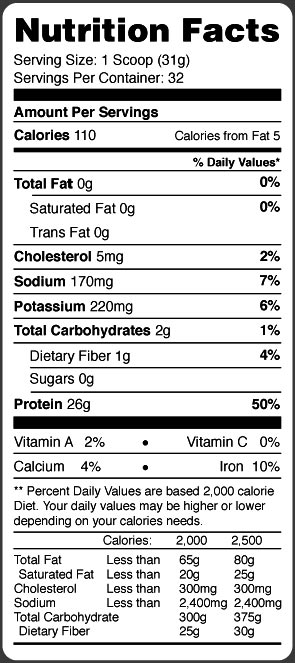 * Percent Daily Values are based on a 2000 calorie diet.

INGREDIENTS:Whey Protein Isolate, Sunflower Creamer (Sunflower Oil, Maltodextrin, Sodium Caseinate (a milk derivitive), Mono and Diglycerides, Tocopherols), Natural and Artificial Flavor, Soy Lecithin, Potassium Phosphate, Salt, Sucralose, Vitamin B6 (Pyridoxine HCI), Vitamin B2 (Riboflavin), Vitamin B1 (Thiamin HCI), Vitamin B12 (Methylcobalamin).
Directions:
Depending on your individual protein needs, mix 1-3 scoops of MTS Isolate into 6-18 ounces of cold water or milk (6oz per scoop) in shaker or blender.
Warnings:
Manufactured in a facility that processes Tree Nuts, Wheat and Eggs. Contains Milk